Our military grade protective iPhone X case is made especially for those always on the go. Engineered with a two-layer construction of qitech™ material, the impact iPhone X cases and covers are 6.6 ft. drop test approved, no joke. Casetify Impact iPhone X Case = your iPhone X's best friend. Real Cute, Real Tough.
Something wrong happened.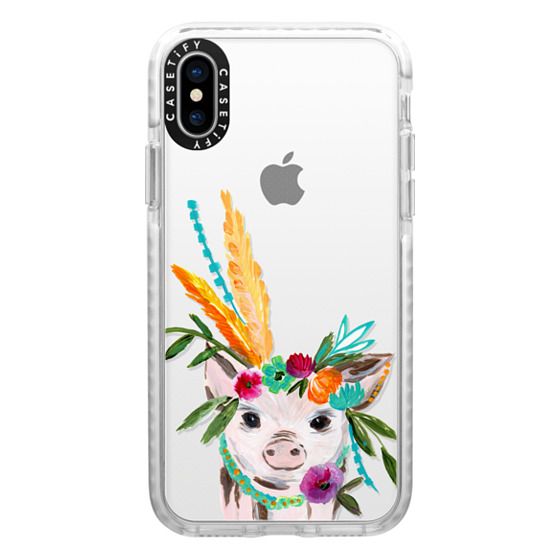 boho pig miss piggy floral flowers bouquet crown feathers by Bari J.
$45
Choose your device: iPhone X Case
iPhone X Case
Supported Macbook Models
MacBook Pro (15-inch, Late 2008)
MacBook Pro (15-inch, Early 2009)
MacBook Pro (15-inch, Mid 2009)
MacBook Pro (15-inch, Mid 2010)
MacBook Pro (15-inch, Early 2011)
MacBook Pro (15-inch, Late 2011)
MacBook Pro (15-inch, Mid 2012)
MacBook Pro (13-inch, Mid 2009)
MacBook Pro (13-inch, Mid 2010)
MacBook Pro (13-inch, Early 2011)
MacBook Pro (13-inch, Late 2011)
MacBook Pro (13-inch, Mid 2012)
MacBook Pro (Retina, 13-inch, Mid 2012)
MacBook Pro (Retina, 13-inch, Late 2012)
MacBook Pro (Retina, 13-inch, Early 2013)
MacBook Pro (Retina, 13-inch, Late 2013)
MacBook Pro (Retina, 13-inch, Mid 2014)
MacBook Pro (Retina, 13-inch, Early 2015)
MacBook Pro (Retina, 15-inch, Mid 2012)
MacBook Pro (Retina, 15-inch, Early 2013)
MacBook Pro (Retina, 15-inch, Late 2013)
MacBook Pro (Retina, 15-inch, Mid 2014)
MacBook Pro (Retina, 15-inch, Mid 2015)
MacBook Pro (13-inch, Late 2016, Two Thunderbolt 3 Ports)
MacBook Pro (13-inch, Late 2016, Four Thunderbolt 3 Ports)
MacBook Pro (13-inch, Mid 2017, Two Thunderbolt 3 Ports)
MacBook Pro (13-inch, Mid 2017, Four Thunderbolt 3 Ports)
MacBook Pro (13-inch, Mid 2018, Two Thunderbolt 3 Ports)
MacBook Pro (13-inch, Mid 2018, Four Thunderbolt 3 Ports)
MacBook Pro (13-inch, Mid 2019, Two Thunderbolt 3 Ports)
MacBook Pro (13-inch, Mid 2019, Four Thunderbolt 3 Ports)
MacBook Pro (15-inch, Late 2016)
MacBook Pro (15-inch, Mid 2017)
MacBook Pro (15-inch, Mid 2018)
MacBook Pro (15-inch, Mid 2019)
MacBook Air (13-inch, Late 2010)
MacBook Air (13-inch, Mid 2011)
MacBook Air (13-inch, Mid 2012)
MacBook Air (13-inch, Mid 2013)
MacBook Air (13-inch, Early 2014)
MacBook Air (13-inch, Early 2015)
MacBook Air (13-inch, Mid 2017)
MacBook Air (13-inch, Late 2018)
MacBook Air (13-inch, Mid 2019)
Supported Apple Watch Models
Apple Watch Series 3
Apple Watch Series 4
Apple Watch Series 5
Apple Watch Series 1
Apple Watch Series 2
Apple Watch Series 1
Apple Watch Series 2
Apple Watch Series 3
Apple Watch Series 4
Apple Watch Series 5
Apple Watch Series 1
Apple Watch Series 2
Apple Watch Series 3
Apple Watch Series 4
Apple Watch Series 5
Supported iPad Models
iPad 9.7" (5th generation - 2017)
iPad 9.7" (6th generation - 2018)
iPad 12.9" (1st generation - 2015)
iPad 12.9" (2nd generation - 2017)
iPad 11" (1st generation - 2018)
iPad 12.9" (3rd generation - 2018)
---