Our printed leather apple watch bands and apple watch straps are made of water- and scratch-resistant saffiano leather because we know you wear your apple watch every, single, day. The material is soft and the unique cross-hatch pattern will ensure vibrant color finishing. Perfectly fits with new Apple Watch Series 4 and original Series 3, Series 2 and Series 1.
Something wrong happened.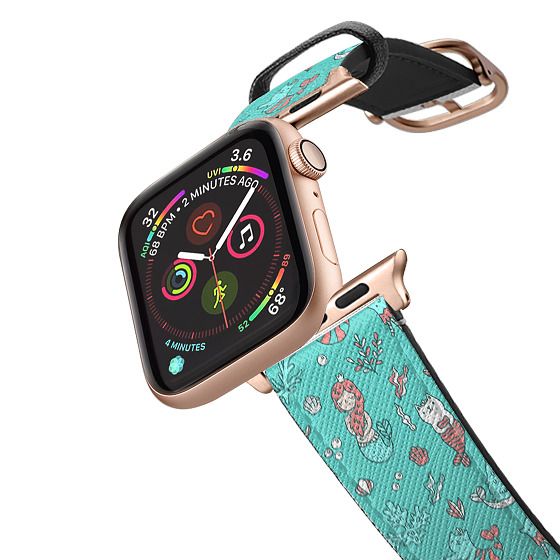 Cat mermaids under the sea. Cute fish and kitties.
$52
Choose your device: Apple Watch Band (38mm/40mm)
Apple Watch Band (38mm/40mm)
Supported Macbook Models
MacBook Pro (15-inch, Late 2008)
MacBook Pro (15-inch, Early 2009)
MacBook Pro (15-inch, Mid 2009)
MacBook Pro (15-inch, Mid 2010)
MacBook Pro (15-inch, Early 2011)
MacBook Pro (15-inch, Late 2011)
MacBook Pro (15-inch, Mid 2012)
MacBook Pro (13-inch, Mid 2009)
MacBook Pro (13-inch, Mid 2010)
MacBook Pro (13-inch, Early 2011)
MacBook Pro (13-inch, Late 2011)
MacBook Pro (13-inch, Mid 2012)
MacBook Pro (Retina, 13-inch, Mid 2012)
MacBook Pro (Retina, 13-inch, Late 2012)
MacBook Pro (Retina, 13-inch, Early 2013)
MacBook Pro (Retina, 13-inch, Late 2013)
MacBook Pro (Retina, 13-inch, Mid 2014)
MacBook Pro (Retina, 13-inch, Early 2015)
MacBook Pro (Retina, 15-inch, Mid 2012)
MacBook Pro (Retina, 15-inch, Early 2013)
MacBook Pro (Retina, 15-inch, Late 2013)
MacBook Pro (Retina, 15-inch, Mid 2014)
MacBook Pro (Retina, 15-inch, Mid 2015)
MacBook Pro (13-inch, Late 2016, Two Thunderbolt 3 Ports)
MacBook Pro (13-inch, Late 2016, Four Thunderbolt 3 Ports)
MacBook Pro (13-inch, Mid 2017, Two Thunderbolt 3 Ports)
MacBook Pro (13-inch, Mid 2017, Four Thunderbolt 3 Ports)
MacBook Pro (13-inch, Mid 2018, Two Thunderbolt 3 Ports)
MacBook Pro (13-inch, Mid 2018, Four Thunderbolt 3 Ports)
MacBook Pro (13-inch, Mid 2019, Two Thunderbolt 3 Ports)
MacBook Pro (13-inch, Mid 2019, Four Thunderbolt 3 Ports)
MacBook Pro (15-inch, Late 2016)
MacBook Pro (15-inch, Mid 2017)
MacBook Pro (15-inch, Mid 2018)
MacBook Pro (15-inch, Mid 2019)
MacBook Air (13-inch, Late 2010)
MacBook Air (13-inch, Mid 2011)
MacBook Air (13-inch, Mid 2012)
MacBook Air (13-inch, Mid 2013)
MacBook Air (13-inch, Early 2014)
MacBook Air (13-inch, Early 2015)
MacBook Air (13-inch, Mid 2017)
MacBook Air (13-inch, Late 2018)
MacBook Air (13-inch, Mid 2019)
Supported Apple Watch Models
Apple Watch Series 3
Apple Watch Series 4
Apple Watch Series 5
Apple Watch Series 1
Apple Watch Series 2
Apple Watch Series 1
Apple Watch Series 2
Apple Watch Series 3
Apple Watch Series 4
Apple Watch Series 5
Apple Watch Series 1
Apple Watch Series 2
Apple Watch Series 3
Apple Watch Series 4
Apple Watch Series 5
Supported iPad Models
iPad 9.7" (5th generation - 2017)
iPad 9.7" (6th generation - 2018)
iPad 12.9" (1st generation - 2015)
iPad 12.9" (2nd generation - 2017)
iPad 11" (1st generation - 2018)
iPad 12.9" (3rd generation - 2018)
---