Our printed leather apple watch bands and apple watch straps are made of water- and scratch-resistant saffiano leather because we know you wear your apple watch every, single, day. The material is soft and the unique cross-hatch pattern will ensure vibrant color finishing. Perfectly fits with Apple Watch Series 5, 4, 3, 2, and 1.
Something wrong happened.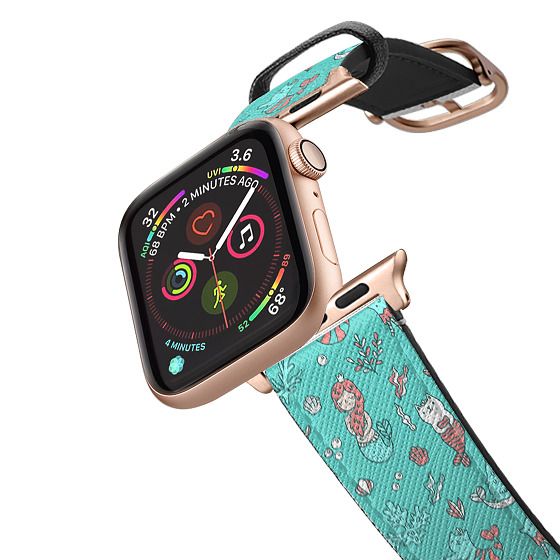 Cat mermaids under the sea. Cute fish and kitties.
$52
Choose your device: Apple Watch Band (38mm/40mm)
Apple Watch Band (38mm/40mm)
Supported Macbook Models
MacBook Pro (15-inch, Late 2008)
MacBook Pro (15-inch, Early 2009)
MacBook Pro (15-inch, Mid 2009)
MacBook Pro (15-inch, Mid 2010)
MacBook Pro (15-inch, Early 2011)
MacBook Pro (15-inch, Late 2011)
MacBook Pro (15-inch, Mid 2012)
MacBook Pro (13-inch, Mid 2009)
MacBook Pro (13-inch, Mid 2010)
MacBook Pro (13-inch, Early 2011)
MacBook Pro (13-inch, Late 2011)
MacBook Pro (13-inch, Mid 2012)
MacBook Pro (Retina, 13-inch, Mid 2012)
MacBook Pro (Retina, 13-inch, Late 2012)
MacBook Pro (Retina, 13-inch, Early 2013)
MacBook Pro (Retina, 13-inch, Late 2013)
MacBook Pro (Retina, 13-inch, Mid 2014)
MacBook Pro (Retina, 13-inch, Early 2015)
MacBook Pro (Retina, 15-inch, Mid 2012)
MacBook Pro (Retina, 15-inch, Early 2013)
MacBook Pro (Retina, 15-inch, Late 2013)
MacBook Pro (Retina, 15-inch, Mid 2014)
MacBook Pro (Retina, 15-inch, Mid 2015)
MacBook Pro (13-inch, Late 2016, Two Thunderbolt 3 Ports)
MacBook Pro (13-inch, Late 2016, Four Thunderbolt 3 Ports)
MacBook Pro (13-inch, Mid 2017, Two Thunderbolt 3 Ports)
MacBook Pro (13-inch, Mid 2017, Four Thunderbolt 3 Ports)
MacBook Pro (13-inch, Mid 2018, Two Thunderbolt 3 Ports)
MacBook Pro (13-inch, Mid 2018, Four Thunderbolt 3 Ports)
MacBook Pro (13-inch, Mid 2019, Two Thunderbolt 3 Ports)
MacBook Pro (13-inch, Mid 2019, Four Thunderbolt 3 Ports)
MacBook Pro (15-inch, Late 2016)
MacBook Pro (15-inch, Mid 2017)
MacBook Pro (15-inch, Mid 2018)
MacBook Pro (15-inch, Mid 2019)
MacBook Air (13-inch, Late 2010)
MacBook Air (13-inch, Mid 2011)
MacBook Air (13-inch, Mid 2012)
MacBook Air (13-inch, Mid 2013)
MacBook Air (13-inch, Early 2014)
MacBook Air (13-inch, Early 2015)
MacBook Air (13-inch, Mid 2017)
MacBook Air (13-inch, Late 2018)
MacBook Air (13-inch, Mid 2019)
Supported Apple Watch Models
Apple Watch Series 3
Apple Watch Series 4
Apple Watch Series 5
Apple Watch Series 1
Apple Watch Series 2
Apple Watch Series 1
Apple Watch Series 2
Apple Watch Series 3
Apple Watch Series 4
Apple Watch Series 5
Apple Watch Series 1
Apple Watch Series 2
Apple Watch Series 3
Apple Watch Series 4
Apple Watch Series 5
Supported iPad Models
iPad 9.7" (5th generation - 2017)
iPad 9.7" (6th generation - 2018)
iPad 12.9" (1st generation - 2015)
iPad 12.9" (2nd generation - 2017)
iPad 11" (1st generation - 2018)
iPad 12.9" (3rd generation - 2018)
---