Nuestra funda con protección de impacto grado militar para iPhone 11 Pro está hecha para quienes siempre están en movimiento. La funda de Alto Impacto Personalizable está fabricada con dos capas de material qitech™, la funda de impacto para iPhone 11 Pro, protege tu teléfono de caídas de hasta 2 metros, ¡no es broma! La funda de Impacto de CASETiFY para iPhone 11 Pro = el mejor amigo de tu iPhone 11 Pro. Súper Cool, Súper Resistente.
Something wrong happened.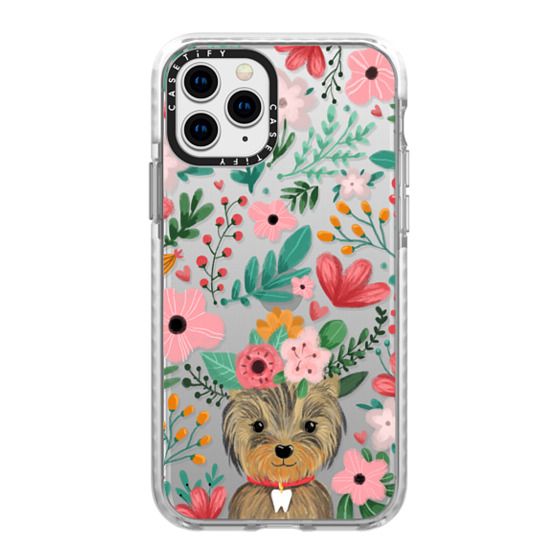 Cute yorkie dog. Yorkshire terrier with summer flowers and tooth necklace.
$45
Elige tu modelo: iPhone 11 Pro Funda
iPhone 11 Pro Funda
Disponible para Modelos Macbook
MacBook Pro (15-inch, Late 2008)
MacBook Pro (15-inch, Early 2009)
MacBook Pro (15-inch, Mid 2009)
MacBook Pro (15-inch, Mid 2010)
MacBook Pro (15-inch, Early 2011)
MacBook Pro (15-inch, Late 2011)
MacBook Pro (15-inch, Mid 2012)
MacBook Pro (13-inch, Mid 2009)
MacBook Pro (13-inch, Mid 2010)
MacBook Pro (13-inch, Early 2011)
MacBook Pro (13-inch, Late 2011)
MacBook Pro (13-inch, Mid 2012)
MacBook Pro (Retina, 13-inch, Mid 2012)
MacBook Pro (Retina, 13-inch, Late 2012)
MacBook Pro (Retina, 13-inch, Early 2013)
MacBook Pro (Retina, 13-inch, Late 2013)
MacBook Pro (Retina, 13-inch, Mid 2014)
MacBook Pro (Retina, 13-inch, Early 2015)
MacBook Pro (Retina, 15-inch, Mid 2012)
MacBook Pro (Retina, 15-inch, Early 2013)
MacBook Pro (Retina, 15-inch, Late 2013)
MacBook Pro (Retina, 15-inch, Mid 2014)
MacBook Pro (Retina, 15-inch, Mid 2015)
MacBook Pro (13-inch, Late 2016, Two Thunderbolt 3 Ports)
MacBook Pro (13-inch, Late 2016, Four Thunderbolt 3 Ports)
MacBook Pro (13-inch, Mid 2017, Two Thunderbolt 3 Ports)
MacBook Pro (13-inch, Mid 2017, Four Thunderbolt 3 Ports)
MacBook Pro (13-inch, Mid 2018, Two Thunderbolt 3 Ports)
MacBook Pro (13-inch, Mid 2018, Four Thunderbolt 3 Ports)
MacBook Pro (13-inch, Mid 2019, Two Thunderbolt 3 Ports)
MacBook Pro (13-inch, Mid 2019, Four Thunderbolt 3 Ports)
MacBook Pro (15-inch, Late 2016)
MacBook Pro (15-inch, Mid 2017)
MacBook Pro (15-inch, Mid 2018)
MacBook Pro (15-inch, Mid 2019)
MacBook Air (13-inch, Late 2010)
MacBook Air (13-inch, Mid 2011)
MacBook Air (13-inch, Mid 2012)
MacBook Air (13-inch, Mid 2013)
MacBook Air (13-inch, Early 2014)
MacBook Air (13-inch, Early 2015)
MacBook Air (13-inch, Mid 2017)
MacBook Air (13-inch, Finales del 2018)
MacBook Air (13-inch, Mediados 2019)
Supported Apple Watch Models
Apple Watch Series 3
Apple Watch Series 4
Apple Watch Series 5
Apple Watch Series 1
Apple Watch Series 2
Apple Watch Series 1
Apple Watch Series 2
Apple Watch Series 3
Apple Watch Series 4
Apple Watch Series 5
Apple Watch Series 1
Apple Watch Series 2
Apple Watch Series 3
Apple Watch Series 4
Apple Watch Series 5
Supported iPad Models
iPad 9.7" (5th generation - 2017)
iPad 9.7" (6th generation - 2018)
iPad 12.9" (1st generation - 2015)
iPad 12.9" (2nd generation - 2017)
iPad 11" (1st generation - 2018)
iPad 12.9" (3rd generation - 2018)
---